NERCC Reps for Drywall and Floorcovering Olympics Selected
Posted by
on
Congratulations to the Champions of the New England Regional Finals in the Drywall and Floorcovering Olympics. Jose Sanchez Hernandez, from Local 336 is the Drywall winner. Michael Jacques is the Floorcovering Winner. Both will represent the New England Regional Council of Carpenters in the Eastern District competion in May and try for a place in the national finals at the United Brotherhood of Carpenters' International Training Center in Las Vegas in June.

Hernandez works for Century Drywall, who also employs Victor Gutierrez, the runner-up.

Jacques works for Business Interiors, as does Jose Zayas, the runner-up in the Floorcovering competition.

Eight drywall participants earned a place in today's competition at the New England Carpenters Training Center in Millbury through competitions throughout the region last month. They represented their local unions and their employers, the leading interior systems contractors in New England.

Six members from Massachusetts and Connecticut were selected by union representatives and contractors to participate in the floorcovering competition.

All participants in today's regional finals earned a $200 Red Wing gift card. First and second place finishers in the drywall competition were given PLS Laser Systems. First and second place finishers in the floorcoverers competition were given Hilti laser range finders.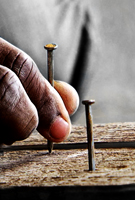 browse POSTS BY CATeGORY: