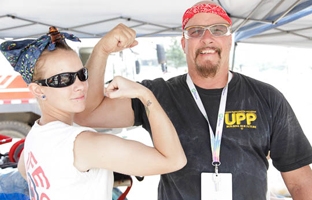 Never in my life did I expect I would go to China for a project.
NERCC Member Since 1989
It's not often you have to bring your passport for a volunteer project with the Carpenters union. But as Local 336 member Rich Brow can tell you, it's not never, either.
Brow was one of several union carpenters who answered the call from the union to help out with a project helping students at Worchester Polytech Institute prepare for the global Solar Decathlon.
The competition pits teams made up of students from multiple universities against each other to see who can built a livable model home using the least amount of energy.
Students from WPI sought out carpenters who could help them assemble their model home and then disassemble it before it shipped to Datong, China for the competition. As the work progressed, they realized they'd need help not only reassembling the house in China, but working with them to make modifications on the fly once they got there. That's when a two week project turned into a six-week adventure for Brow.
"They did a lot of things on their own, but they had reached a barrier that they needed help with and that was what they were looking to get some help on," Brow said. "It seems like most of the schools seem to recruit a person from the trades with construction management skills because the majority are students and professors.
They're very intelligent people. They recognize where their own shortcomings are, and they're not afraid to reach out and seek help."
As Brow was solving building problems--and learning how to get around and find supplies in China--he says he learned quite a bit about sustainable building and the next generation of engineers and designers. To say he was impressed is an understatement.
"When these young people are energized, taking time out of their life to show up at this competition you realize you're in a special place with a special group of people because they're all volunteering. They're young, they're hungry, they want to compete."
Brow's group--Team Bemany--included WPI students and students from Ghent University from Belgium and New York University Polytech. The house they designed was made mostly of composites. he said other teams made houses out of hay bales, styrofoam or more traditional wood frame or metal construction, all with a goal of building a net zero house.
The competition isn't just an open house showing. Teams must perform certain routine household chores and get graded on energy use. One element involves hosting a movie night and serving food in the house with a minimum number of guests. And while Team Bemany didn't win the competition, their home design was successful enough that they didn't have to worry about disassembling it and shipping it home. At the end of the competition, a local builder bought the entire home on the spot.
"This experience was just so enriching because I met so many bright young minds that want to effect change in the world, whether they were from this country, or from China or Sweden or inner Mongolia. These people were from all over the world and they all had a common gold, a goal."