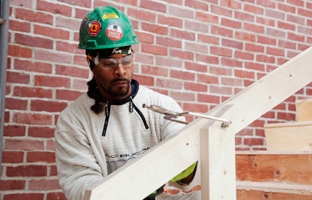 …I feel like I'm making a little bit of a difference in helping somebody out.
NERCC Member Since 2010
Ricardo Engermann is a second year apprentice from Local 40 who volunteered his time and labor on a unique project in his community.
YouthBuild Boston (YBB) is renovating a space in Roxbury, MA into their new headquarters. The project is a historic preservation and renovation of a retired firehouse, located at 27 Centre Street. The firehouse was built in 1860, and has been vacant for twenty years.
YBB began rehab of the building in late Fall 2011. A portion of the renovation project was folded into the New England Carpenter Training Center's apprentice training schedule. Apprentices work on site during their regularly scheduled week of training, instead of training at the school in Millbury, MA.
Ricardo was unable to participate in the training opportunity during his regularly schedule training session in Millbury, but reached out to the project coordinators to see if he could volunteer on his own.
"When I finished my week of training [at the NECTC] the job I had been working on had finished up so I was out of work, so I came down to see if they needed help."
Ricardo lives in Roxbury and is grateful to have the opportunity to volunteer on a project in his community. He has taken the opportunity to work alongside YouthBuild students as a chance to pass on some of the advice he has received along the way.
"If I'm able to provide that example for YouthBuild youngsters then I feel like I'm making a little bit of a difference. If I can help one person, that's good, I feel like I've done something."
What advice have you passed on to the YouthBuild students?: "… Leave your problems at the door...You can use this work as a way to distance yourself from the stress of whatever it is that is happening in your personal life. That allows you to problem solve a little bit better."