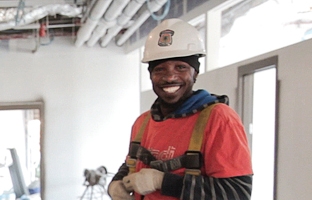 I always pride myself on doing the right thing even when no one's looking.
NERCC Member Since 1994
Kevin "Tommy" Smith is a member of Carpenters Local 326, based in Fairfield, Connecticut.
Kevin immigrated to the United States from Jamaica after completing high school. He moved to Connecticut to rejoin his family.
"I came here and I had to start from scratch…no friends, new life, new city."
After a year, he joined the United States Army and completed a tour of duty in Korea as a certified EMT. In 2007 he joined Carpenters Local 210 through the Helmets to Hardhats program, which connects Veterans with careers in construction.
During his time in the apprenticeship program, Kevin stood out as a hard working individual, dedicated to learning his trade.
"When I go to work, I don't play. I get it done. I want to see something. I want to see progress."
The instructors at the apprenticeship program took note of his hard work and at his graduation from the program named him the 2012 Timura Award recipient. The award recognizes the achievements of the most outstanding apprentice in a graduating class.
"I was proud of myself," he says.
What do you like best about being a union carpenter? "I'm always a team person. Since I was young, I like to be involved in a team. I think collectively you can always do better…The best part for me is when the carpenters get together, get a task, know that we gotta get it done and in the end you see the outcome. It's no ego here; it's all a team thing. That's what I like most."