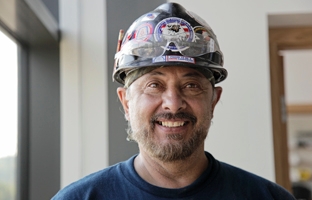 I would like to leave some type of mark before my retirement...maybe other jobs, other stewards could pick this up and do it on a yearly basis...
NERCC Member Since 1983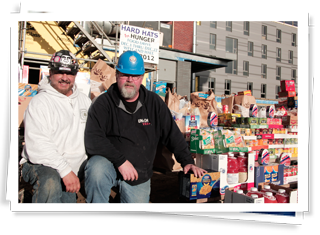 John Costello has been a member of Carpenters Local 346 since 1983 and has been a steward for most of his career. He is a very proud and active member of his Local. His most recent endeavor is the Hardhats for Hunger food drive he helped organize on a jobsite in Bridgewater, MA.
John teamed up with a member of Pipefitters Local 51, Tom Grant, to organize a food drive on the Weygand Hall dormitory project on the campus of Bridgewater State University. They started the drive after the Thanksgiving holiday with the goal of delivering food to a local food pantry, St. Vincent de Paul Society located at St. Thomas Aquinas Church in Bridgewater, just days before Christmas.
John saw the organization of the food drive as a way to give back to the community he has worked in for so many years.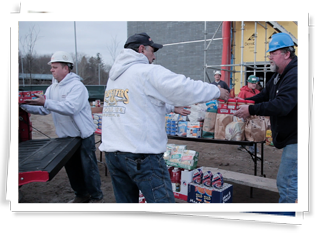 "It didn't surprise me at all that everyone stepped up [to donate] because we're the fortunate ones that actually have a weeks' pay every week. Once you realize that there are people that are struggling and we're so blessed to have a steady income coming in it's almost a no-brainer to give up an hour's worth of pay in groceries."
He hopes his efforts will be noticed by others who might then be encouraged to start a similar project on their own jobsites in the future.
"My ultimate goal [is] that this could snowball into a yearly event with other stewards in other Locals to continue an annual food drive for [the holidays] in the hopes of showing that the construction workers appreciate being able to work in the various towns in New England and give back to the needy."
John and his partner Tom collected food from construction workers on site each morning and used a drop box inside the staging area to store the food over the course of the month, anything that might freeze if left out was stored overnight in the Supervisor's trailer.
Over the course of the month workers dropped off canned goods and non perishable food items. Food was also purchased with money raised in a 50/50 raffle and monetary donations made by workers on site. Carpenters Local 346 and Pipefitters Local 51 each donated $200 worth of food. It is estimated that the drive resulted in nearly $1300 in food donated to the pantry.
On the final day of the drive, John and his partner Tom loaded up his truck to deliver the food to the pantry.
"I would like to leave some type of mark before my retirement, which is approaching soon. The union has benefitted me and my family over the years…I was able to raise my family comfortably and this was kind of like my way to get a movement going that would become an annual event….maybe other jobs, other stewards could pick this up and do it on a yearly basis. It would be my way to give back."