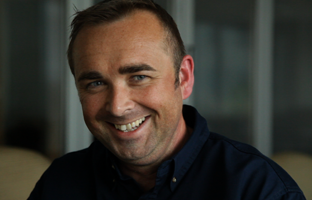 ...you really want to take advantage of what everyone is trying to teach you whether it is at school or out in the field. There's a lot of information, there's a lot of skills you can learn and apply towards your career.
NERCC Member Since 1999
Brother Eamonn Murphy left Ireland to seek a career in Boston in the summer of 1998. In February of the following year, he joined Carpenters Local 33 as first year apprentice. From the onset, Brother Murphy showed a thirst for knowledge and has fully embraced the opportunities available to all members of the Carpenters Union. He now works as an Estimator and teaches other union carpenters as an instructor at Wentworth Institute of Technology's College of Professional and Continuing Education.
"The Carpenters Union offers a great opportunity to people starting out as an apprentice. The training given in the school and in the field by journeymen is priceless…I encourage apprentices to work in all aspects of carpentry to understand the means and methods of construction. From there, they can make the right career decision. There are so many avenues and the Carpenters Union has opened the door to all of them for all members"
When the opportunity arose to enroll in the Construction Management program at Wentworth, Murphy was enthusiastic about being able to further advance his career.
"Obtaining a Construction Management degree from Wentworth was the logical choice in expanding my knowledge of the construction industry, and the program certainly provided that for me," he said.
(Learn more about this specially tailored program here.)
"The Carpenters Union places great emphasis on its membership being a highly trained and skilled workforce in the construction industry. This program adds another level of education for carpenters."
Upon completing the Associate's Degree program, Murphy landed an Estimating position with a construction company.
"I think one of the things that sparked some interest there was the fact that I had carpentry experience with this degree. Not many people see that on someone's resume. I think I had that advantage and I think that's why I got to the interview table."
While working as an Estimator, Murphy enrolled and began taking classes in pursuit of his Bachelor's Degree in Project Management. At the same time, a position opened up at Wentworth. They were looking for an instructor for an estimating course that would be part of the curriculum available to carpenters enrolled in the program. Murphy saw another opportunity to advance his career and training and stepped up to teach.
As Murphy explains, many of the professors at the College of Professional and Continuing Education are adjunct professors who bring real life experience to the classroom.
"I think, overall, if the students who are union carpenters come to the classroom and see me, as a union carpenter who has gone through the program and worked my way up…now working as an Estimator, they see me teaching an estimating class and…I think… they see the potential from going through this program what else is out there for them and their career path."
Murphy is proud of his chosen career path as well as the potential he sees in his brothers and sisters in the Carpenters Union.
"One of the things I've learned and what the Carpenters Union is trying to say is that carpentry isn't the only avenue. What you learn as a carpenter through the apprenticeship and as a journeyman really applies to the construction industry as a whole. It's a good strong basis and there's a lot of potential out there…make the most of it and it will definitely help whatever career path you go down in the future.